---
Needles - andama - 10-11-2011

There has been a lot of chatter about needles and sizes so I would really like people to list the needles they use and why and where they get them with a link. I will then set up a section where links can be found for items.

This quest is for needles and mohair.

Time to shine as people and share your wisdom.

cheers


---
RE: Needles - Kylie - 10-11-2011

I use the 42g and 46g crown needles. I have tried heaps of needles but have found these to be the most comfortable for me. I use the 42's for the rooting and the 46 for the baby fine hairs or 'fuzz' around the hair line.
Generally the higher gauge (smaller needle) will leave smaller holes but you can always pop the head in the oven for a couple of minutes to help close up the holes if you use a bigger needle and are bothered by any holes.

I buy kid mohair from slumberland or angela. I love both of these places for mohair although there is a couple of places I definitely want to try that have been recommended to me. Like anything you get what you pay for. I personally think the hair can make or break a baby. Beautifully painted baby but cheap quality hair can be a real let down. Anyways lol Here are the links for where I buy mine.

Needles:

http://www.tinkerbellcreations.co.uk/43-fork-extra-strong-403-p.asp

Mohair:

http://www.slumberlandnursery.com/slumberlandhome.html

http://www.angelasrebornnursery.webs.com/



---
RE: Needles - RebornVirgo - 10-11-2011

Sorry i don't have a link, but recently a lovely lady sent me a few of her needles to try. I have fallen in love with the 42g crown needle. Thank you for the link where you get yours Kylie as i need to order myself a stash of them.

I am actually enjoying rooting. It's quite a peaceful practice. Well now that the hair is actually going in lol
At the moment I am using mohair from Vynettes Bassinette, its very cheap but quite soft actually. Until I get better at it I will stick to the inexpensive stuff


Cherie


P.S- Great post Andama
---
RE: Needles - sandra - 10-11-2011

I use a 42g 3 barb. Is that the same as a crown? I love the Susan Nagel mohair from City of Reborn Angels for my Kirby Kids. I use Ruby Red Galleria for my vamplings.


---
RE: Needles - rach2184 - 10-11-2011

I also use the 42g german fork needles.Although i usually order them from Vynette here - http://www.vynettesbassinette.com/index.php?main_page=product_info&cPath=75&products_id=2352&zenid=f9b406f07f7468f7825b2987a587e119

But i have recently purchased them in an ounce lot from Bountiful baby and find them really good.
http://www.bountifulbaby.com/seaside/index/supplies?_s=gHgNfimLvghCzDIu&_k=YnTUsTHv&s=1711&t=Category+Number&d=false&c=1711

I also usually use either slumberland (takes a long time to arrive from Canada), Ruby Red or here - http://www.cityofrebornangels.com.au/online-store/mohair/premium-fine/


---
RE: Needles - threads - 10-11-2011

I use a several needles, order from Tinks , as previusly mentioned.
Slumberland Mohair and Susan Nagel - rnagel,@earthlink.net.


---
RE: Needles - RebornVirgo - 10-11-2011

Lol I am using a "crown" needle atm and have NO idea what that means lol


Cherie
---
RE: Needles - Lovin2Reborn - 10-11-2011

I am a newbie so I'm just using what I'm learning with: 38g needles (I put 43 on another post by mistake not long ago).

My kit came with Ruby Red Galleria mohair, but I'm going to be ordering from Angela's or Slumberland.

This is a wonderful thread!!!!
Great to know!!!!

Here's a question: I noticed on Angela's and Slumberland that they asked if you want kid, yearling or adult - what do you ladies choose????


---
RE: Needles - judy54 - 10-11-2011

I use 42g & 43g German fork ..tricky to start with but when you get used to them their great for the sparse look xx


---
RE: Needles - liveffects - 10-11-2011

I use 43 forked needles and 46 gauge needles and Slumberland Kid mohair ... I often
use a combination of several different shades on the one head ie white blonde, blonde and dark blonde to create a blonde haired baby...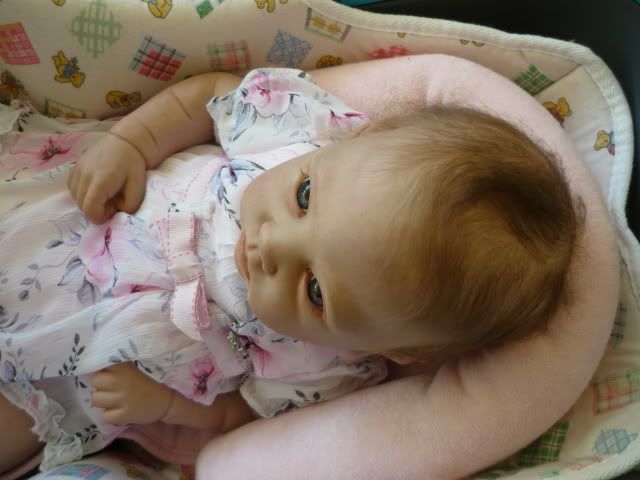 ---