---
Joyful Heart - andama - 04-08-2010



JOYFUL HEART

by

Reva Schick reborn doll kit



As soon as I removed this kit from the box I noticed how

little detail

there was on the face and limbs which was very disappointing, also the kit

comes with a

body

which is made in China for

Lee Middleton

and although the body is jointed the fabric used is really awful as it is very stiff.

The holes in the limbs of this kit are very small making filling them a very time consuming job and it an art in itself The vinyl is thick so increasing the size of the holes I did not considered a good idea

Re-borning this kit using

genesis heat set paints

required many layers to get a good cover as the vinyl seems to drink the paint.

This is an expensive kit and even though it will make a nice baby it is not what I would consider to be a stand out kit.



Would I do the kit again

? NO! however I would consider this is a

good kit for beginners



I purchased the kit for Aus $135.00 plus the eyes and the tummy plate plus postage bringing this baby in at close to $200 before the re-borning began.

Who else has done

reborn doll kit Joyful Heart

by

Reva Schick

.



Here are versions by four artists of Joyful Heart

.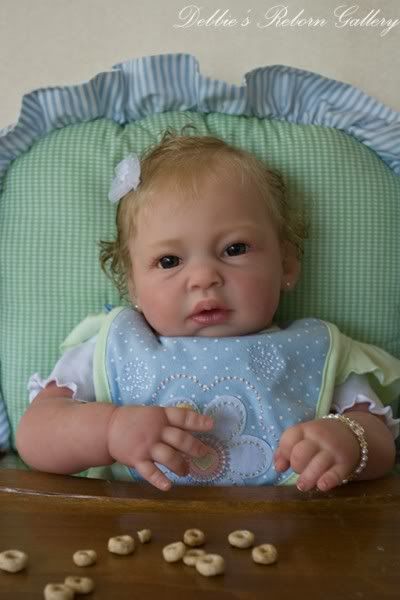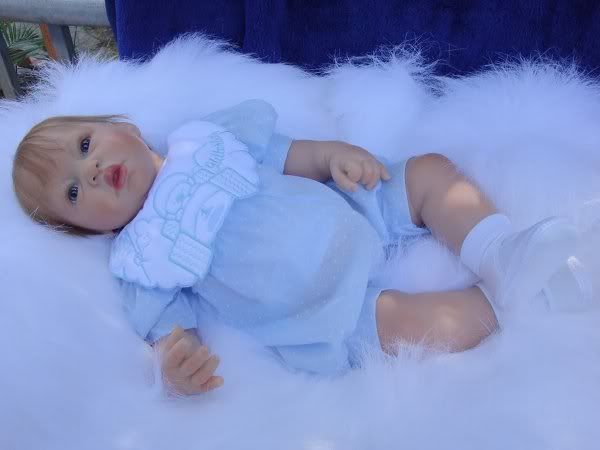 cheers


---
RE: Joyful Heart - Judymae - 04-08-2010

That's got to be disappointing and why is it so much more over there. I found it in a few places for $80.00 or about like this one with the body.
http://www.berenguer-dolls.com/Grammaz-Nursery/agora.cgi?next=60&product=Dolls_and_Kits
I can see when the price is a little different but that is quite a bit. That's how I felt when I did the

Morgan kit

by

Aliena Peterson

, the limbs don't seem to fit and the detail just isn't in them but her face is prescious. Also I can't find the kit you got with any pictures other than the 1 finished picture. She does look cute though and I love her size. Maybe when you finish painting her she will seem to have more detail.
Good luck I'm sure she will be beautiful.


---
RE: Joyful Heart - andama - 04-08-2010

I would say the price is in direct relation to the store that sells it and their mark up and of course the exchange rate and more so the postage to Australia.
I would consider the

Joyful Heart reborn doll kit

along the lines of the

apple

valley

in quality as it is not impressive and is basic is detail .
I have done a couple of apple valley and found them great as a cheaper option for making an affordable reborn doll for buyers. But you get what you pay for and as an artist the

joyful heart kit

is a lovely kit if you are a beginner but not worth the money otherwise.
There are better out there on the market.
A good kit to buy if on sale only and to perhaps put away as a do later baby.

cheers


---
RE: Joyful Heart - karen west - 04-08-2010

I have also done a joyful heart and I had problems getting the paint to stay as well. I would have it looking good and go away and when I came back the paint had disappeared. I liked it when it was finished - heaps of coats later. I don't know if it would be suitable for a beginner though, too disheartening when the paint keeps disappearing. I liked the limbs - cute little chubbies. Even though the body was different I quite liked it. I wouldn't be too keen to do it again. I have other kits by Lee middleton to do and I'm not looking forward to doing them if the paint is going to be the same. Here is my little guy. I did him about a year ago and he has a new mum. Karen


---
RE: Joyful Heart - andama - 04-08-2010

Nice photos Karen, I am hearing you when it comes to doing any of the other kits by Lee Middleton , I doubt I would venture that way again, with the amount of work involved there is no pleasure in creating babies using this kit. I also feel because the limbs are so chubby this baby is never going to be a dainty bub, it should be listed in the adverting that this is a chubby baby as personally I prefer never to do them as they are not my thing.

Cheers


---
RE: Joyful Heart - Wildcat_24 - 04-08-2010

I had problems with my Lee Middleton Loveliness too. Lovely vinyl but not great to paint, everything kept disappearing too. It took sooo many coats to get her the way I wanted. I think they have a high silicone content.
I thought the detail on the limbs was lovely. They are big kits though.
I wouldn't be so keen to do one again but just loved my little Lilli-Mae who was adopted by Chris.


---
RE: Joyful Heart - ordinary miracles reborn - 04-10-2010

apparently if you do a thin layer of matte varnish before painting the paint doesn't disapear but thats hear say i haven't ever made one of the lee middleton babies
hugs gayle


---
RE: Joyful Heart - Judymae - 04-13-2010

Well I had never heard of it until you mentioned it and I swear this

Niki

by

Jacqueline Gwin

is just what you were talking about. I've painted and painted and not much color. By the time I paint one and then do another the first one is dry and looks like I didn't do it. Plus the

eye sockets

are

small

and they are so

thin

water ran through them when I washed the head plus the

finger

tips

are a little

rough

around the edges, looks like someone chewed the nails off. LOL! Oh well prayerfully I can fix it all with the Lords help. :-)


---