I am
re-borning
a baby boy using a
torso body
from
Lyn's reborn world
and the reason I mention LYN's business is because I have not found these boy's and girls torso's anywhere else.
This is the first time I have used one of these
torso's
and I have to say I think I may be hooked lol so I would like to know if anyone else has created a baby using these torso's and if so where did you get them and what did you think of them.
I have found them very easy to work with and they have
full limbs
both legs and arms. I like the vinyl it is a very good quality and really lovely to paint with wonderful detail.
The down side
is with buying the torso and the head the kit comes in with postage at nearly $200 before you start work on it however the detailing for both the boy and girl makes these torso's very very
realistic
.
The up side
.
Realistic, makes a baby about 19-21 inches, body kit comes with, upper cloth body, lower half torso, legs and arms and of course ties.
I will be loading my first baby photos using this kind of kit with a
Barry
Head by
Adrie Stoete
in the coming days.
Photo of torso kit I am using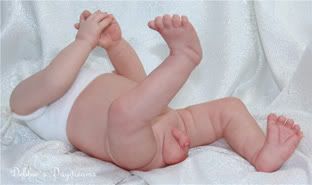 cheers
Andama Dujon
www.reborndollsaustralia.com
Save