Hi all, I recently had some business cards made by VistaPrint as I got tired of hand-making every individual one from scrap-booking materials lol. With the cards they offered me a website built by them to match the design of my cards. They said it was free for a one month trial and then around $7 per month after that.
Apparently I would be able to upload all my pics to it and edit any information whenever I wanted.

As I am not that computer-literate, I thought I would ask here - how do you all get your websites? Is VistaPrint a good way to go to create a website? They also offered for me to register my name through them - is that a good idea?

My Uncle is a web designer and I wondered if maybe I should just get a page created by him. Having said that, the VistaPrint deal sounds good I just don't know how good the page would be...... Help!
---
Plus I noticed people interested in my bears tend to "google" all the time for my name and my bears, and can't find me. The worst thing is there are other results for "joyful bears" and they generally shop with those results as that was all they could find. My bears are completely different from Joyful Bears, and I'd like for my customers to find me when they look for me - for that I need a website.

Gabriele, GJOYful Bears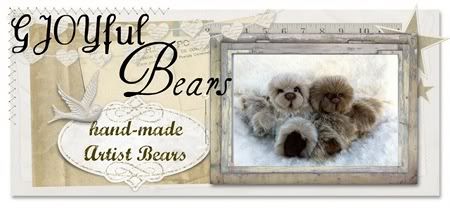 Handmade Artists Bears & Fantasy Sculptures
Website:
http://www.gjoyfulbears.com/main.html

Facebook
https://www.facebook.com/gjoyfulbearsfantasysculptures