Ok guys I decided to try a new mold out by berenguer which I ordered from collectible kids.
The doll which included the body cost $45.00 plus postage which was very little.
I have rebirthed the doll into a lovely baby girl and would have to say this is a great doll for those just starting out and even those of us who have been reborning for years. I was very surprised at how well this baby turned out. The doll is nice and soft as is the head so no broken needles when doing the hair. The head does have the hair molded in but it makes no differance when rebirthing this doll as it is easy to cover. The limbs are full which is great and it makes a 17 inch baby when complete. For the price this is a great doll.
let me know what you think.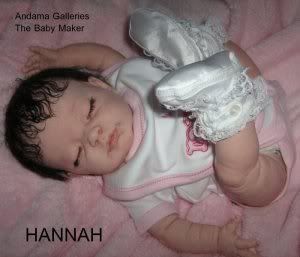 Cheers
Andama Dujon
www.reborndollsaustralia.com
Save