You will of course need to join photobucket lol
once joined you can load onto the site by following these instructions.
select photos from your computer you want to load by choosing select photos or videos in the green box, then once you have chosen your photo or photos click on them and they will automatically load into photobucket.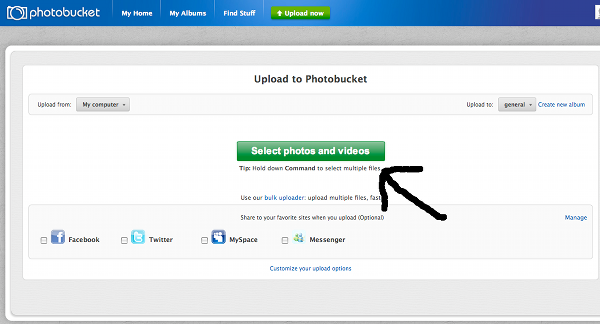 Your photos will appear the same as the picture below.
Press save and continue to my album
to load onto site choose photo and click on direct link and the word copied should appear. You may need to right click if you are using a mac and some PC's will also require a right click
return to baby banter forum after you have clicked on the photo you wish to load and click on the little picture of the mountain at the top of the page (some computers will require right click)
this following box will appear
you will then click inside the box then click on the word paste when it appears. then click on the work okay ( some may require right click)
The following will appear on the forum page you are loading on and you can then add more photos if you choose.
If you have any questions or this tutorial is not clear please say so and I will do my best to make it a little more simpler or clearer as I know how confusing loading photos can be and I had to be taught so I know how difficult or daunting this can seem.
cheers
Andama Dujon
www.reborndollsaustralia.com
Save