I have a customer...a very sweet lady...who is battling cancer....for the second time....I had this Kylah kit...a limited edition which I bought on preorder...but she just never took off...I don't think the edition is even sold yet....I've seen the kits marked down to a very low price on my dealers site!!!
ANYWAY.....I pulled her out and did her for my customer....as a surprise....hoping it would cheer her up and give her comfort!!!
She received her the other day and wrote me the SWEETEST letter...it is pretty long....but I put it on here because it is one of the nicest thank you letter I have EVER gotten!!!!!
I posted it below Kylah's pix!!!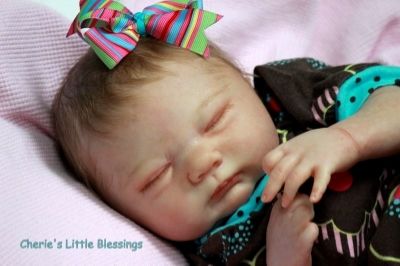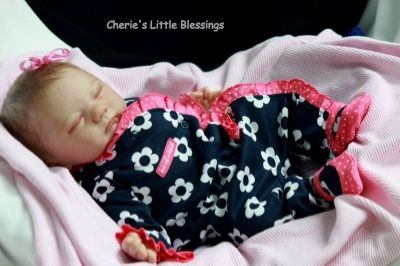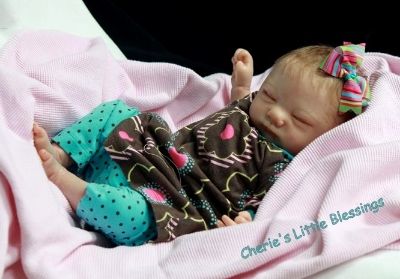 Cherie, I was out for a walk, I had wanted just to go to bed and thought "no, I am not giving up, I have not taken a walk for my lungs and I am going!" Karen, my caregiver, was with me, I had my wheelchair in front of me which is customary for me in case I have to sit and rest. We walked all the way to the mailbox, and picked up the mail and I was pretty tired by then, but Karen said "you have a box, maybe some pills from hospice or medical supplies", so I said that I could make it to the gym to pick up the box, but then I would have to ride home. I was hurting so bad.
She walked out of the gym with the biggest grin on her face and said "I think it is a baby, were you expecting one?" I said no, just knowing it had to be those medical supplies but the box looked different, she read the name. Oh my gosh!! How does someone fall out of a wheelchair? Hehee!!
Then the tears started, it felt like a baby, what in the world! I cried all the way from the gym to the apartment. Then I cried through most of the box opening. That baby is adorable!!! I mean ADORABLE!
The thing that really got me about her is that she looks like a potawatomi baby, my fathers people, that darling wide face, we did a box opening video of her for Hello Dolly Nursery, and will put it up as soon as Justin has time.
Cherie, I do not know how to thank you, she is so far better than any baby I could have dreamed of, she was sent from heaven, like my dad was saying "sugar, your friend was just reminding you that I am here with God and everything is alright, and so are you!"
I love her Cherie, her hair is wonderful, I love the painting with the rooting, perfect, we had to get Eva Marie and have her look at her little sister!! We are still having fun with her, and her photos are wonderful! I intend to add to them asap!
I do not know how to thank you, we have read everything and I loved the scripture. Right now I am calling her Seespaquit, little sweet thing (Potawatomi)! My dad called me Seespa for short, and I am sure that will be her name, despite her lovely name on her birth certificate. I am looking at her in her little bed right now from the side, and those precious puffy little eyes make her look so real, I just want to feed her and rock her, and I will too. We got two rockers from walmart for the veranda, and she will love it there in my arms. I will sing the potawatomi songs to her, and remember the love of my dad. I was just talking about him TODAY, of all days! Even my mom said she looks like my dads people! And he was such a man of God, once he borrowed more than seven thousand dollars to put on a revival at the reservation, and many came to Christ. You would have loved him, he maintained Christianity and his traditional beliefs and ways so beautifully that even God must have smiled to bring him home!
How do I thank you? I am still in tears! You have helped to bring the love of my dad to me on a day when I was so tired and worn out, and nearly giving up. You have helped me to remember to take refuge in God tonight, I am going to take something for pain, and hold my new little daughter. My Seespa! I do rejoice in His name, the Lord is truly good, and your beautiful gift has blessed me so much! If you know her sculpt name and designer I would love to know, it was not with her paperwork. Thank you Cherie, again and again!! Thank you God, for an end to a beautiful evening!
Save