I had to do a tutorial for a person I created a website for. She did not know how to use PB so I did a step by step tutorial showing how to create albums and upload pics, and select links to insert into posts, listings etc.
I have posted this on a couple of other forums I belong to, so if you have seen it before you will understand.
I hope this helps those of you who are unsure on how to do it.
How to Use Photobucket
Photobucket is a free to use photo hosting program/site. You may use the free version which shows ads etc, and limits the amount of storage and bandwidth that you can use each month.
If you find this does not cater to your needs, (will stop your image links working) then you can opt to pay a small amount each year for the Pro version which gives you unlimited usage. Most people find the free version is sufficient for their needs. It is only when you start having massive amounts of graphics being used that you may find the need to upgrade.
http://www.photobucket.com
Enter the above address into our browser window and go to the site. If you already have an account registered you can log in and begin to start working with graphics.
New users will need to register themselves an account first. (see red writing below)
Once logged in you can start creating albums, or store everything directly into the default album. If you are likely to have a lot of different graphics, and different categories I suggest you create separate albums. Here is a shot showing my default album and down the right hand side a list of all the different sub-albums: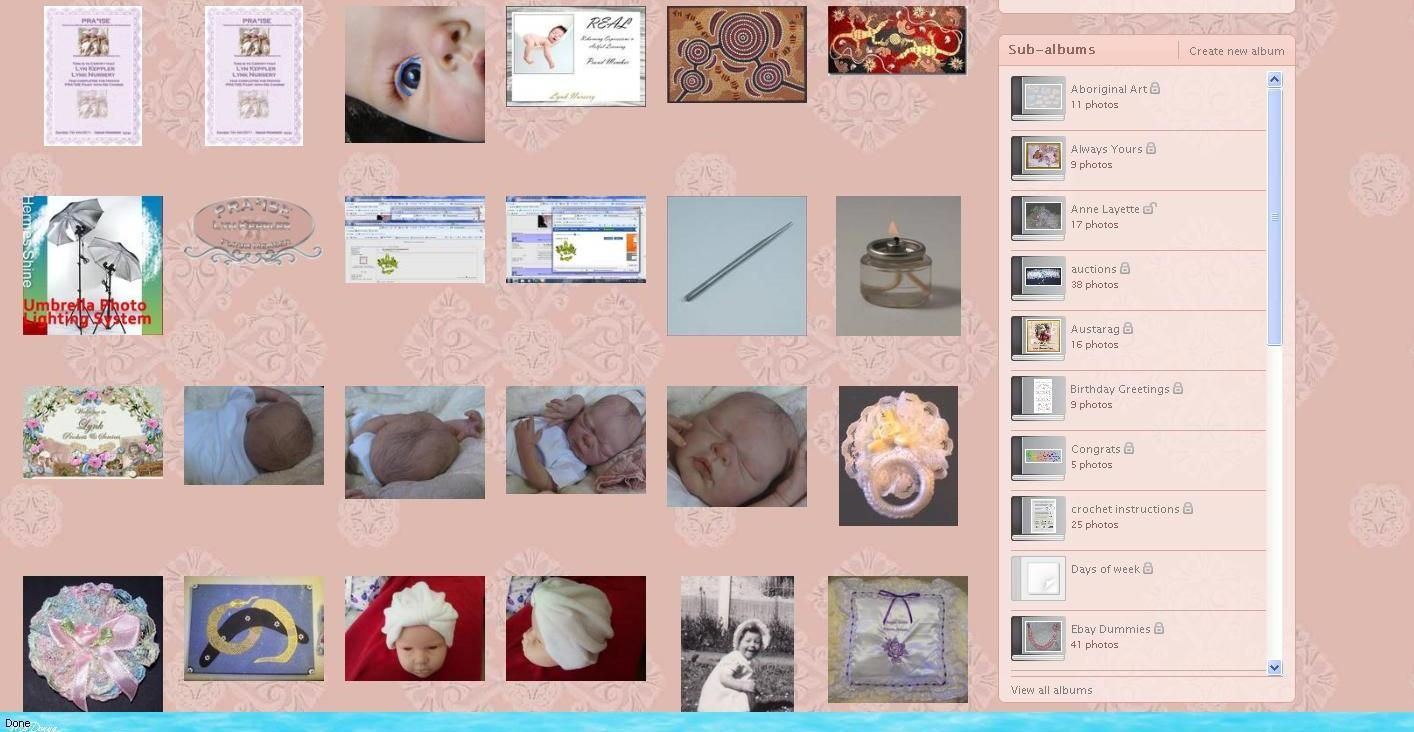 Each sub album can also have further sub albums within themselves. So much the same as how you create categories within your shop you can also create sub albums accordingly within Photobucket (from here on referred to as PB). To create an album click the "create a new album" link.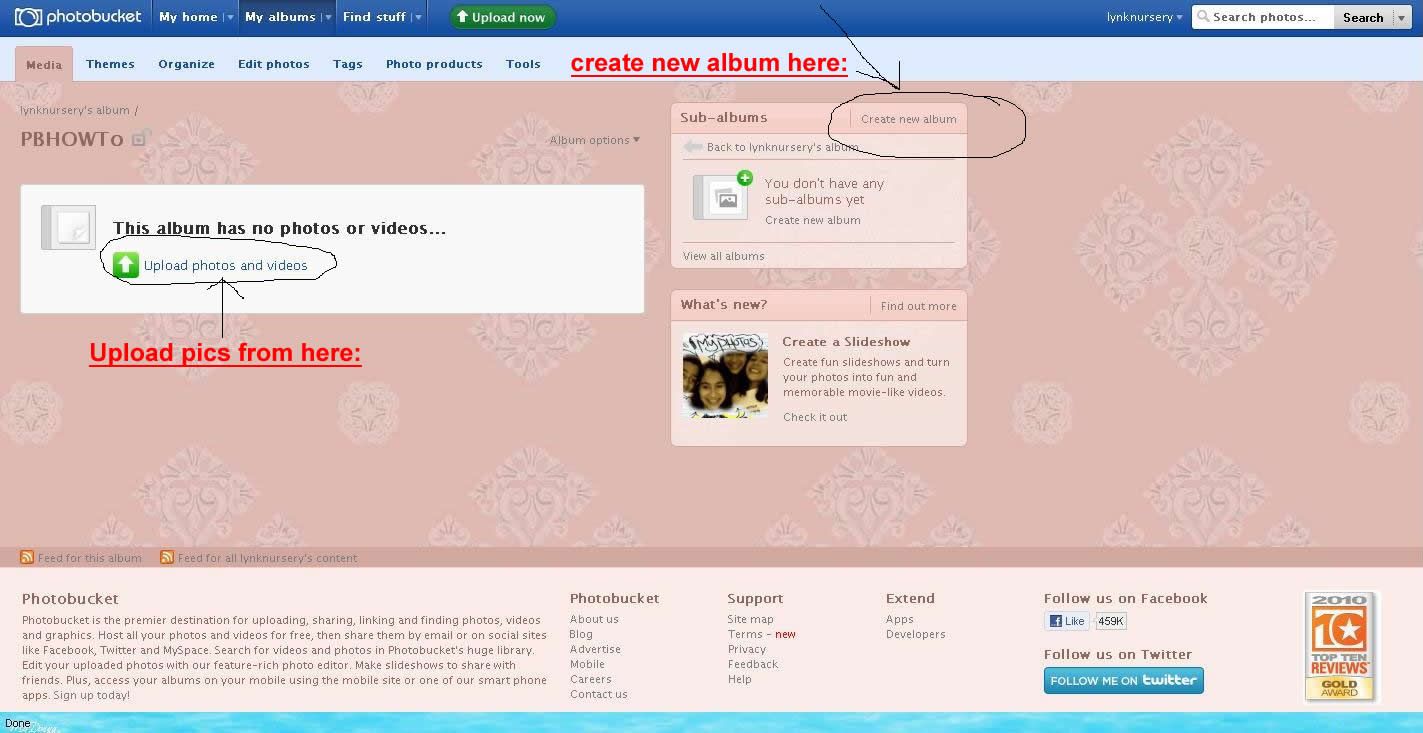 Once you have your albums created then you can start to upload pictures into the relevant albums. To do this click the relevant album in the album list and go to it. Initially it will show as having no photos or videos in it (see above). Click on "upload photos and videos" link (see above) and it will then open up a new screen: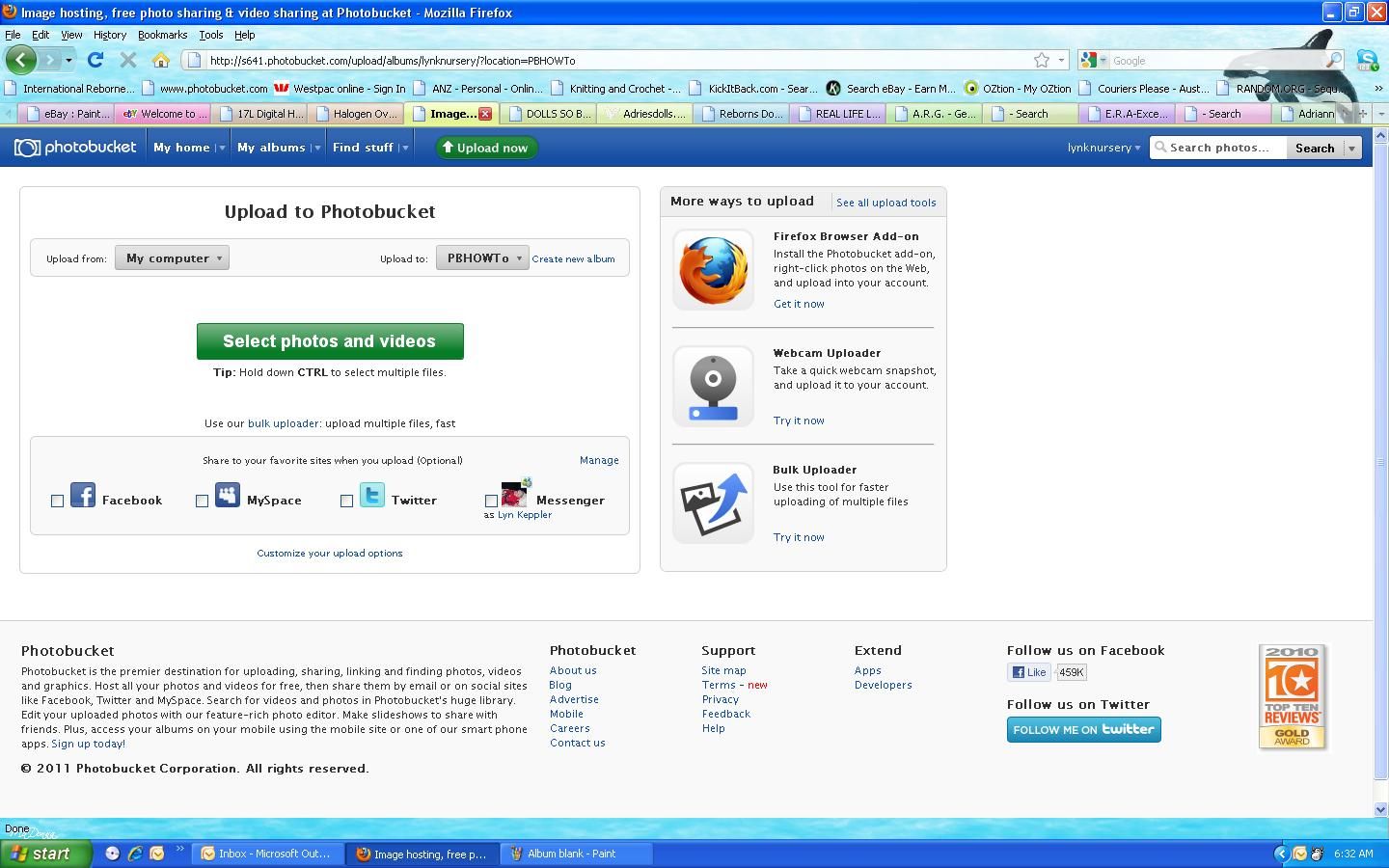 From here, click the green bar which states "select photos and videos" and it will open a browsing window to your computer so you can find the pictures you wish to upload.
From here you may choose 1 file then click "open" button to commence the upload, or you may hold down the control key (Ctrl) and select as many files as you want to upload at the same time. If files are in a different folder you will need to repeat this step for each folder. Only upload the files you wish to place in the chose album in PB, and repeat this for each other album/files as necessary.
Once you have selected all the relevant files, click "open" to commence the upload.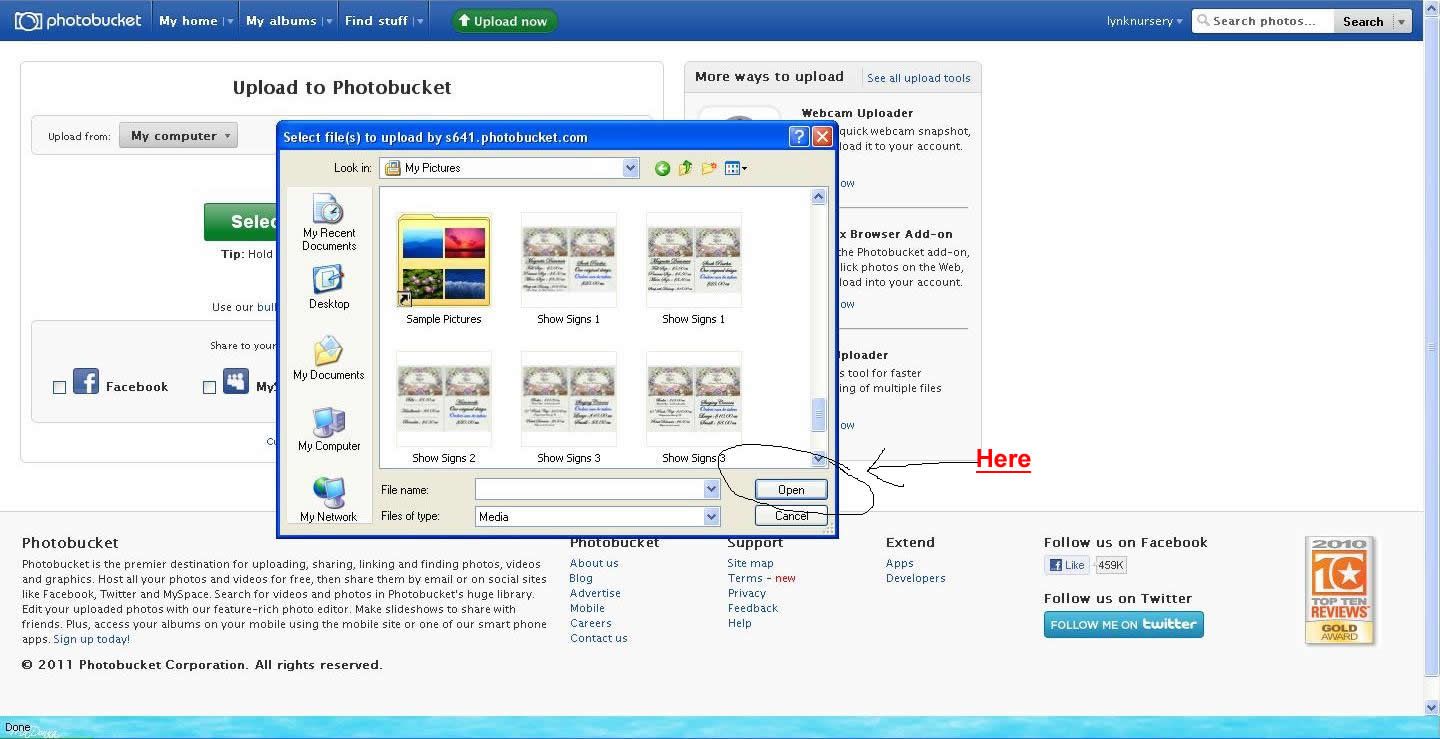 You will then see a progress screen appear as each picture uploads: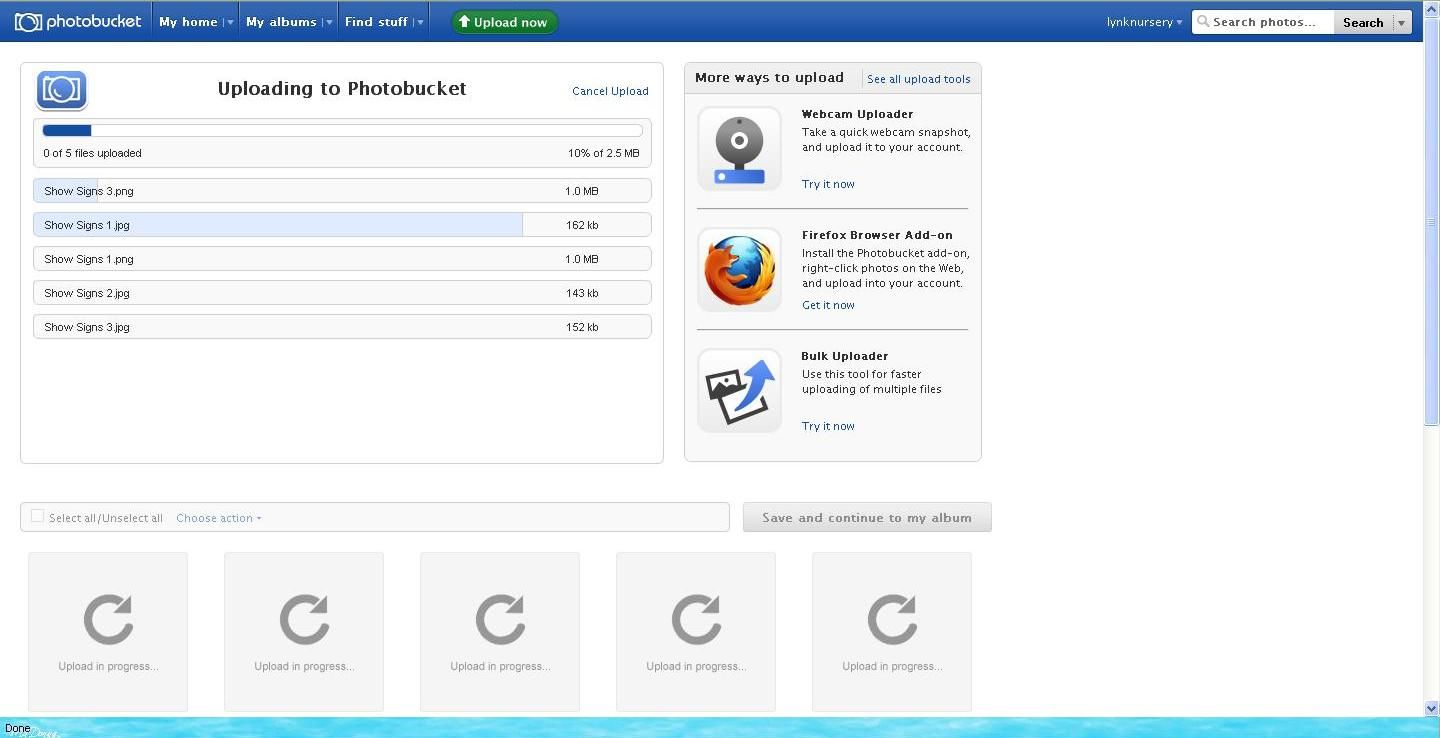 Once all uploads have completed you will get a confirmation screen appear. You can then click "save and continue to my album" :
This will take you to the album and the uploaded pictures: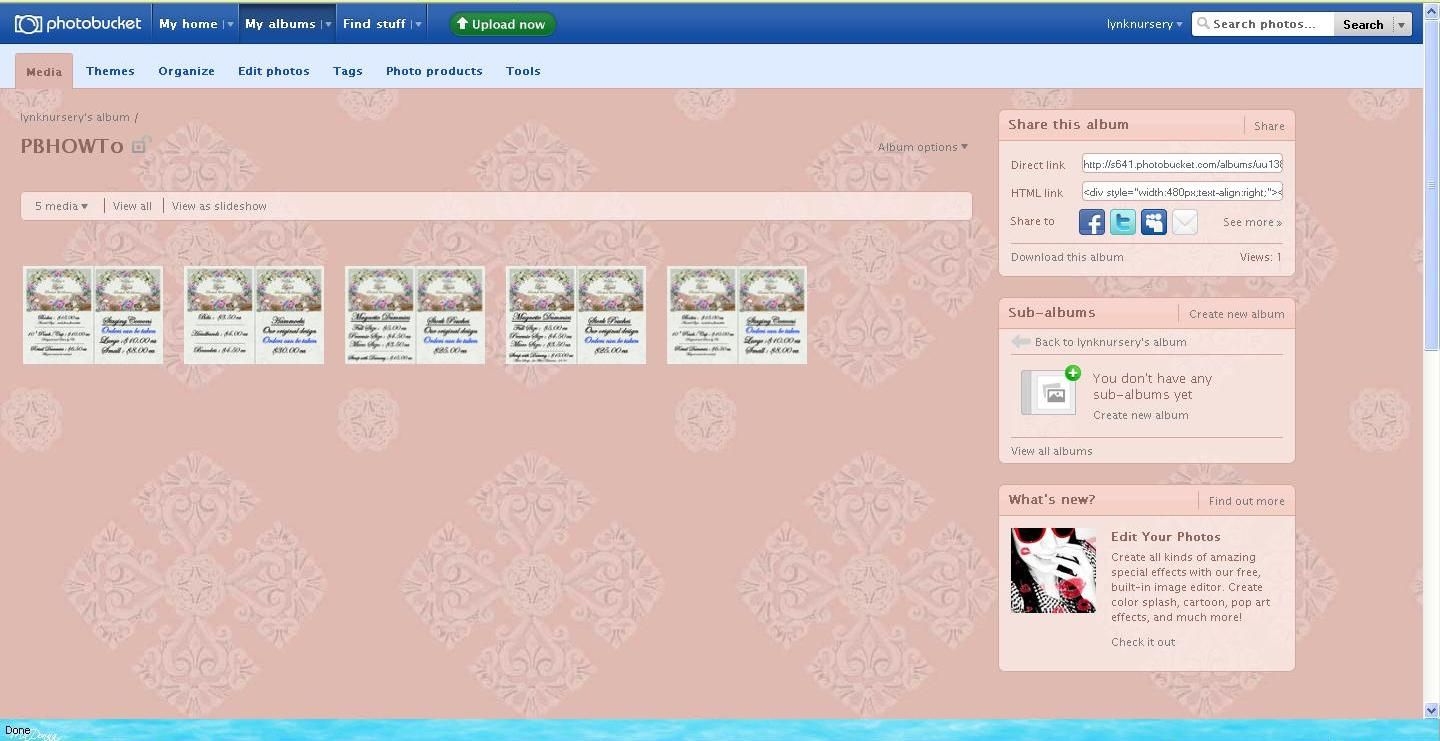 To insert a link from PB into your listing select the "direct" link under the relevant picture:
To add a link to a bulletin board or online forum (except OZtion) etc, you will often use the IMG code:
Once you click on the link, you most likely see the word "Copied" briefly appear in the link box. This tells you that it has been copied to clipboard and you just have to paste it into the selected location where you want the link to appear (e.g: a post on here).
and for the editing:
How to Edit Photos Within Photobucket
Many people like to identify their pictures as their own so no-one else can copy them and use as theirs when in fact they are "stealing" the pictures. To prevent this many people add text to their pictures from within PB. There are many options for style of text so just play around with the different options and see which ones you like the best. This tutorial will just show you how to do it, not all the different options available.
Also some people will add a border or frame around their pictures. Again there are a few different choices available from within PB, so again play with each one and see what you like best. Once you find the ones you like then you can save the new image to your album. Until you click save none of the changes will take effect so you can play around in there as much as you like.
Now for the basics:
To edit a photo select the relevant album within PB and go to the picture, and click the edit link below the picture.
This will then open up the editing screen within PB. You can make as many changes within this editing screen as you wish then save once completed.
The edit screen will always open to the basic screen:
From this screen you can crop your image if you need to do so. Do this by clicking the crop symbol in the taskbar. It will then give you a square tool that you will position over the area of the pic that you wish to crop to. Then click "crop selected area".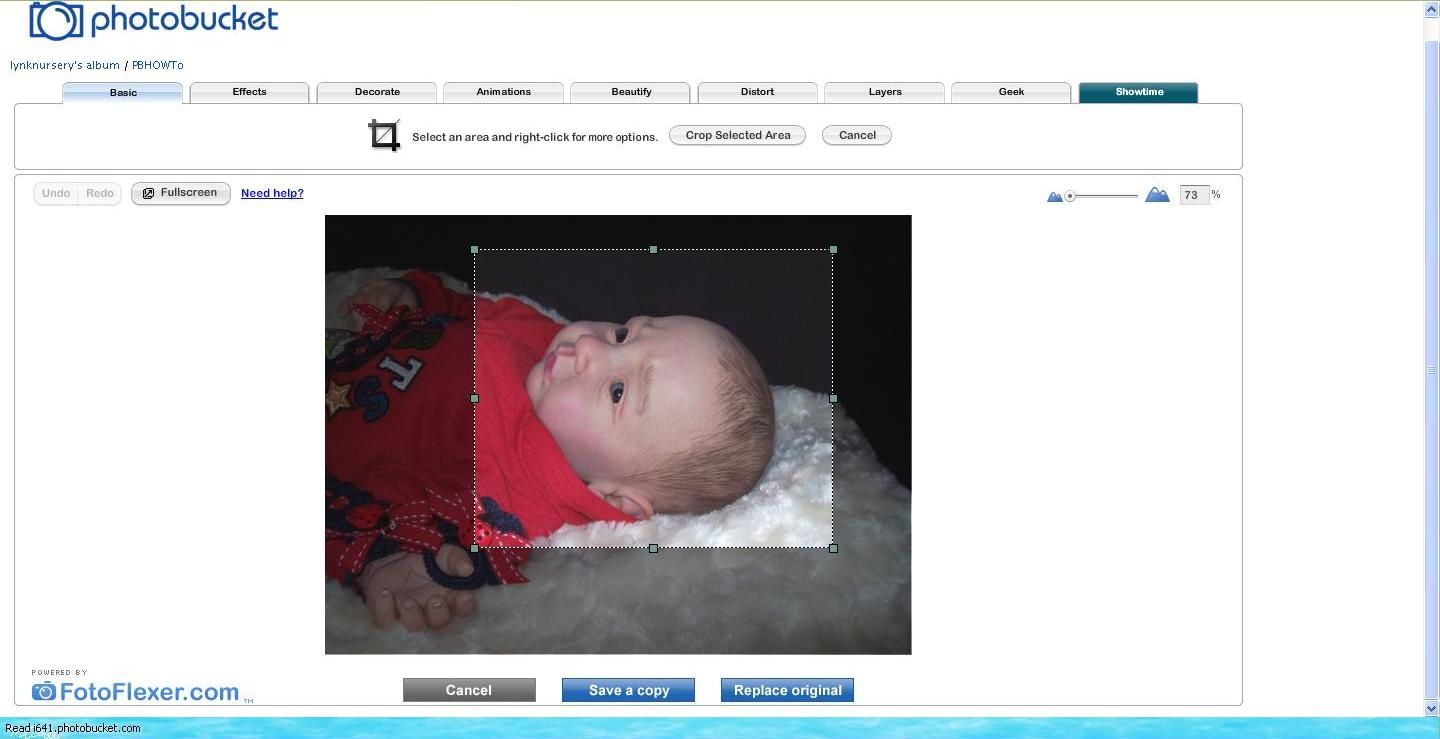 If this is all you were going to do you could then select "save a copy" or "replace original".
Be very careful if replacing original as you then will not have the original image available should you decide you wish to use it. It is safest to "save a copy". Once you click this it will take you back to your album, so if you have more editing to do don't save yet.
Quite often you will need to resize your image to a smaller version. Some locations only allow a certain size picture to be linked. To do this you would click resize in the taskbar. It then brings up a choice on available sizes to choose. Select the size you require and click "apply" to make the change.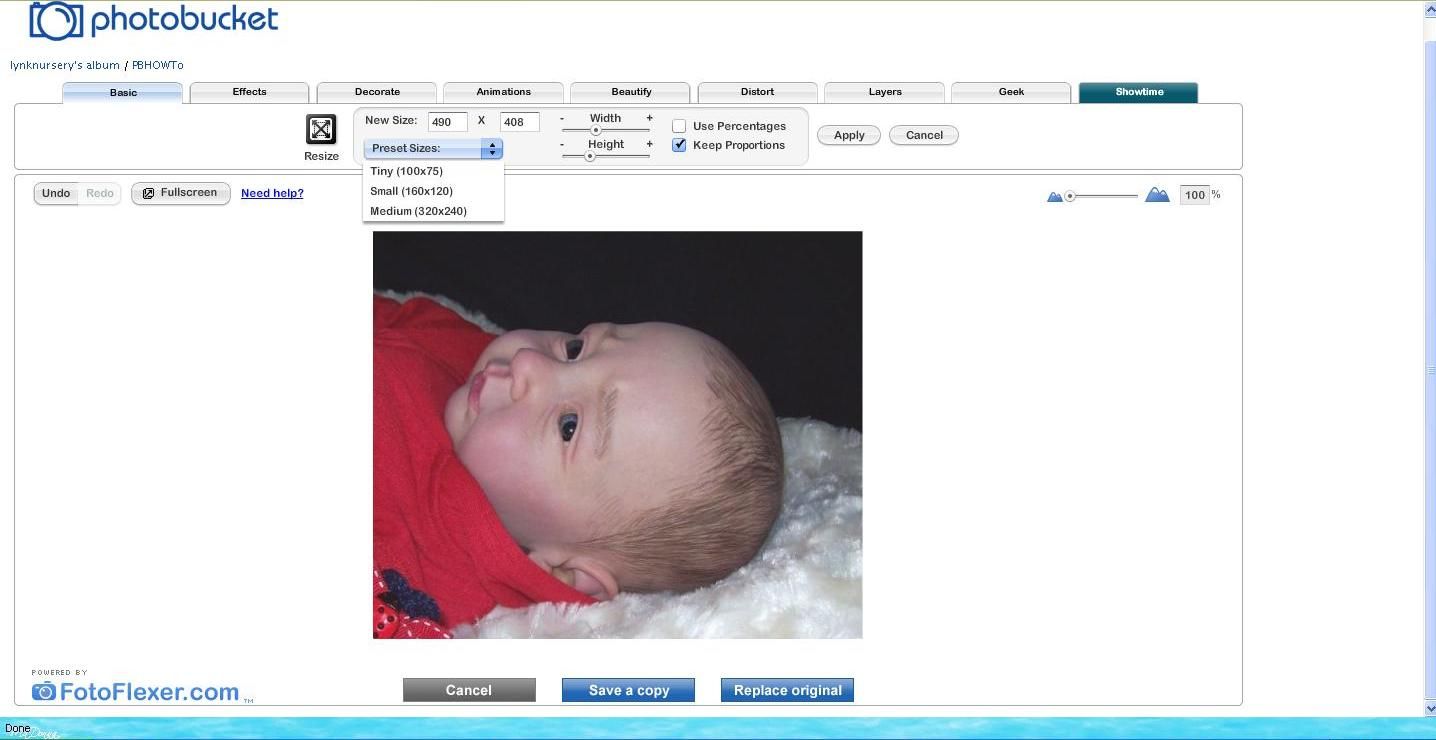 If you are finished save your work, if not don't save yet. If you keep saving at each step, you will need to repeat the first step above and come back into the editing screen after each save.
The next thing to do is add some text to identify the pictures as your own. To do this we need to select a different tab in the taskbar above the picture. Click on each tab and you will see what you can do within each tab.
The main tabs I use are "Basic" and "Decorate". We are now going to click on "Decorate".
From here we can add our text and borders. Click on the "T" icon
This will bring up a text editing box and menu.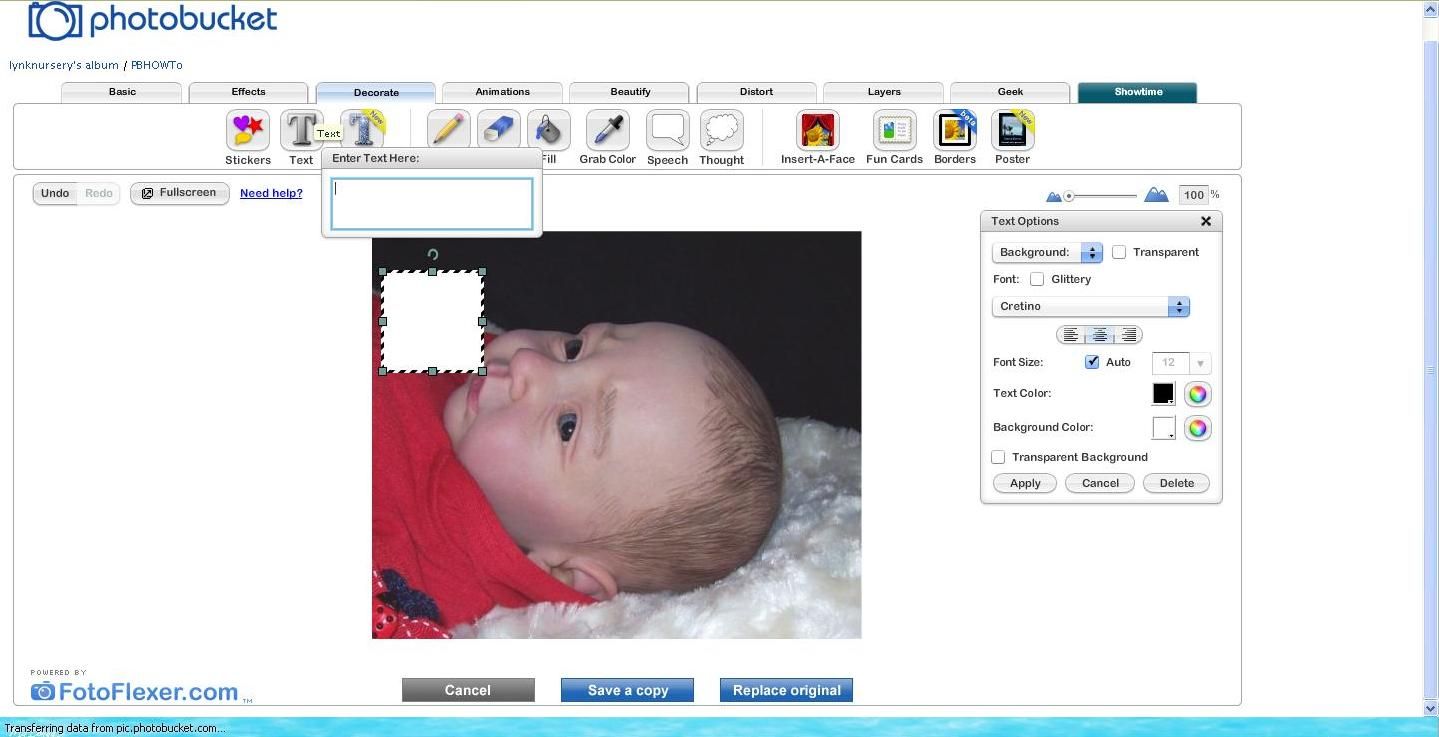 Here we can enter what text we want to appear on the picture, and then place it where we want it to go. We can also select "transparent background" if we don't want a white box behind the text, and also alter the font, size, colour of text etc. Again drag, drop, play around with the mouse and cursor and see what happens. Until you click apply the change does not take effect.
Once you are happy with the position, size, etc of the text, click "apply".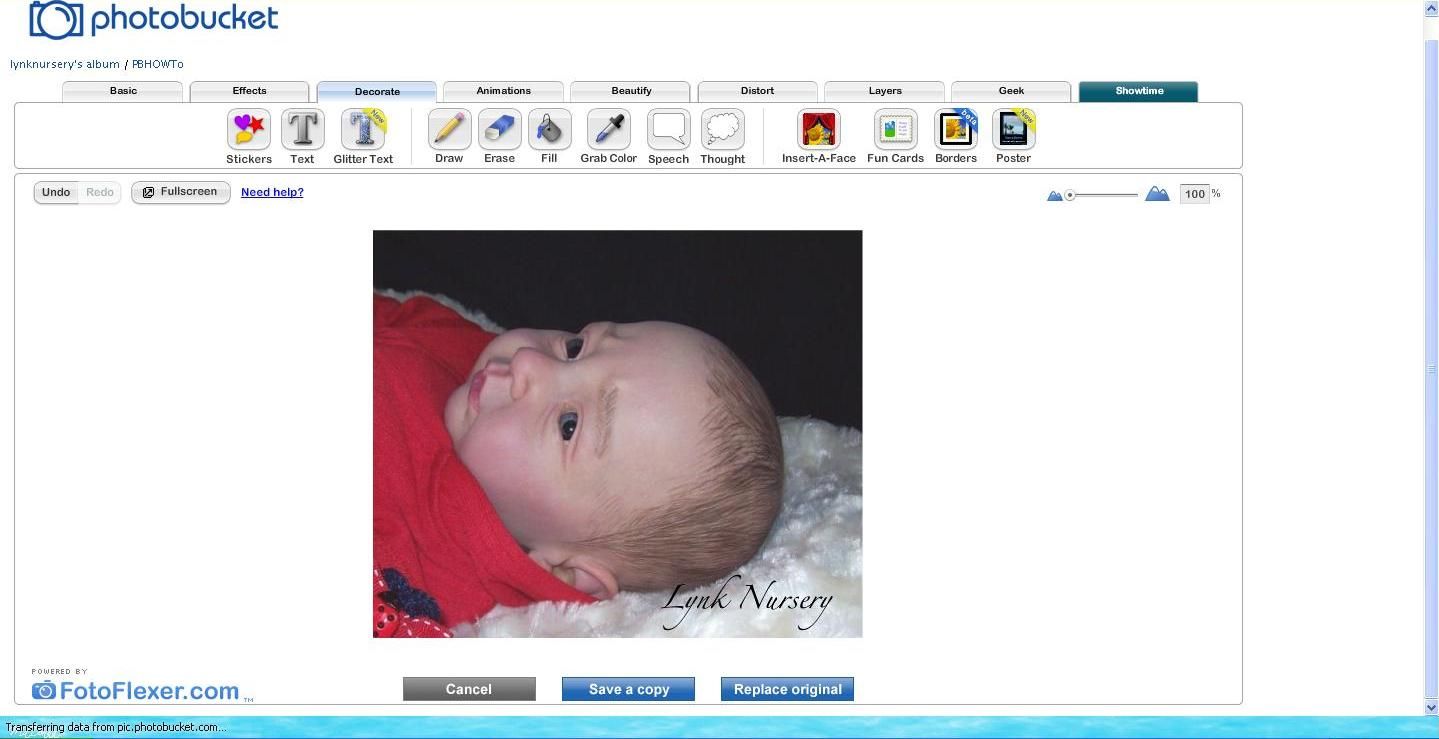 If you do not wish to add a border you can now go ahead and save your work and return to the album.
To add a border click the "Borders" icon further along the taskbar.
It will bring up the following screen.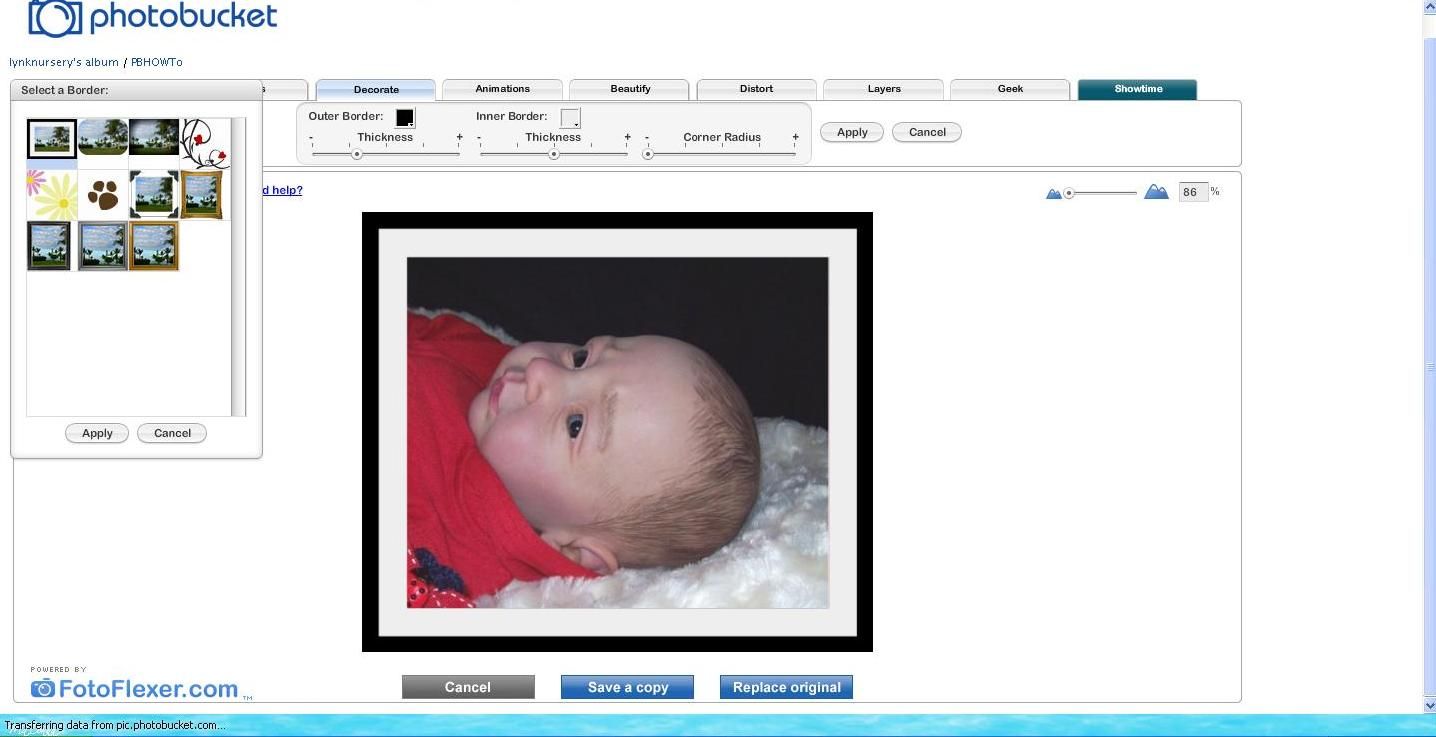 Select the border of your choice. You will notice my text has disappeared. This does sometimes happen, especially if you forget to click apply. No worry, simply go back and read the text after adding the border. We are going to add a muted border around the pic called "Vignette".
It will show quite a large muted border in black. You can alter the colour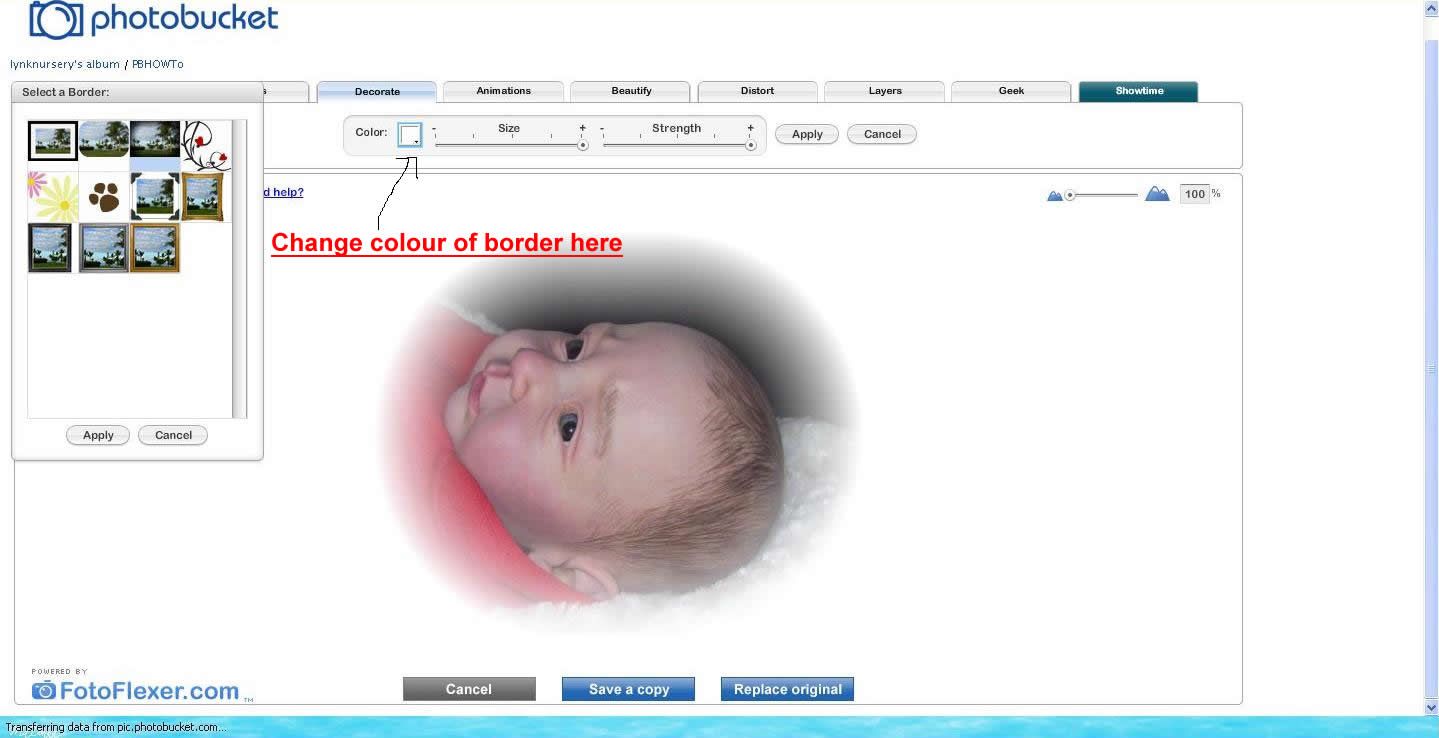 You can also alter the size and opacity of the border.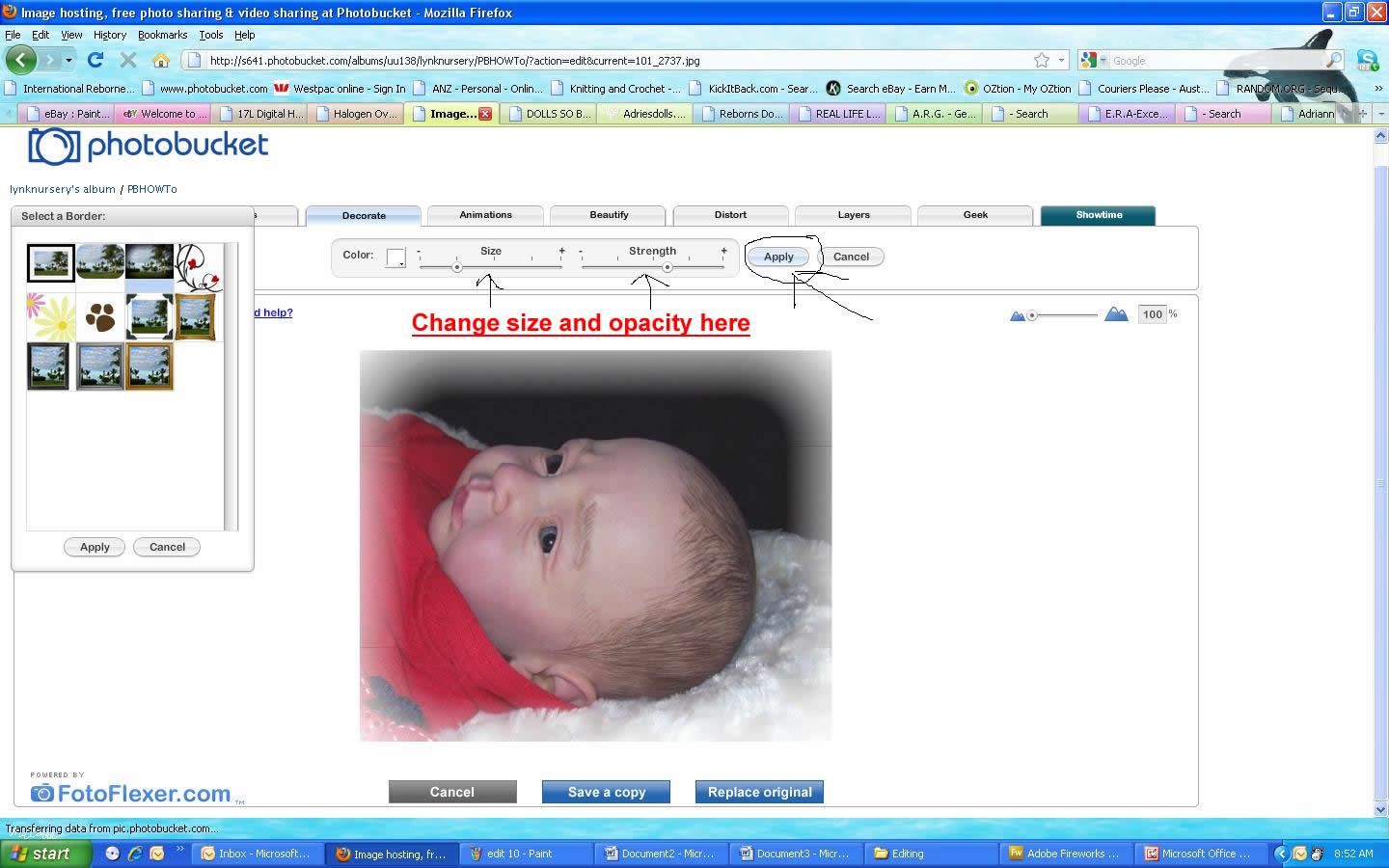 Once you are happy with the border click "apply".
It will then show you the altered image.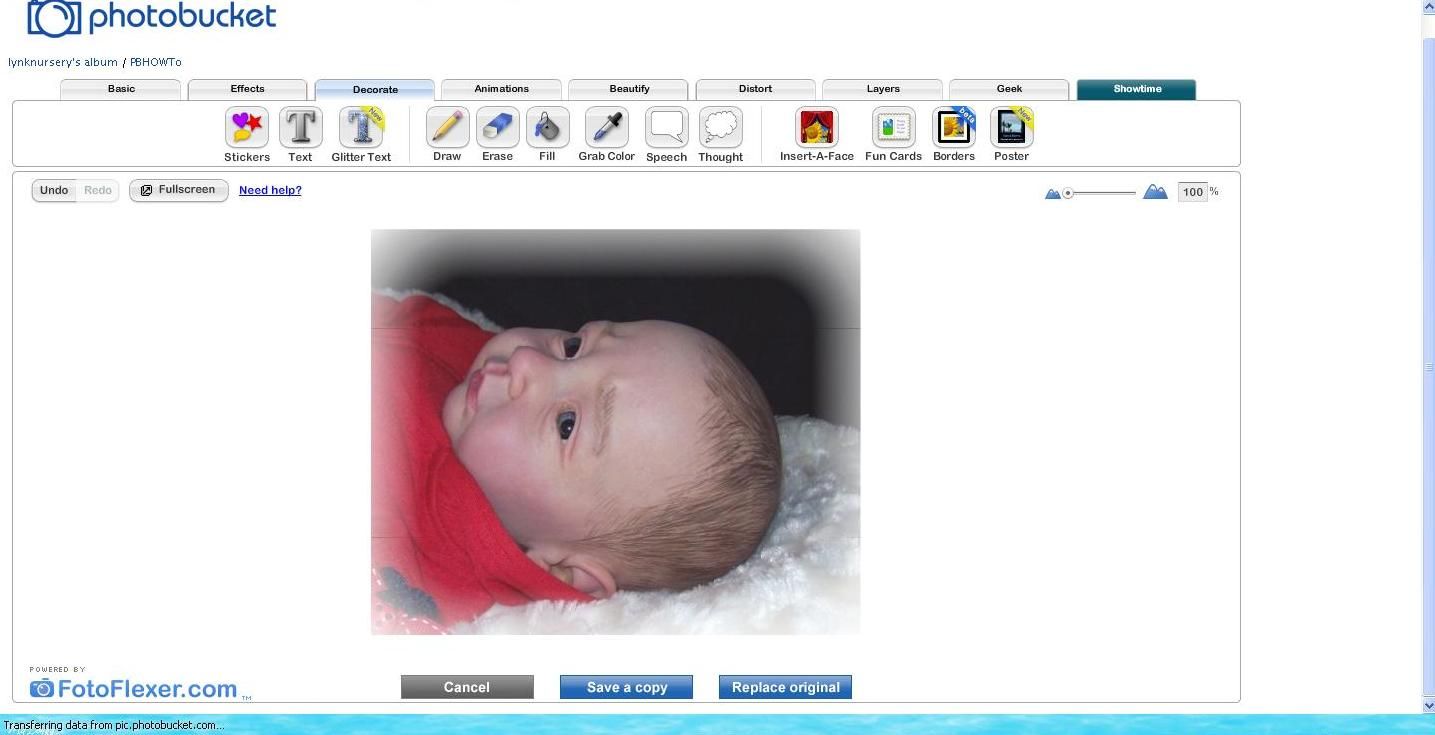 At this point, so long as you didn't make the mistake I made with the text you can save the editing as a copy, or replace original. I suggest "Save a Copy". I will now go back and re-add my text before showing you the rest.
Once you have finished editing and are saving you will see the following screen: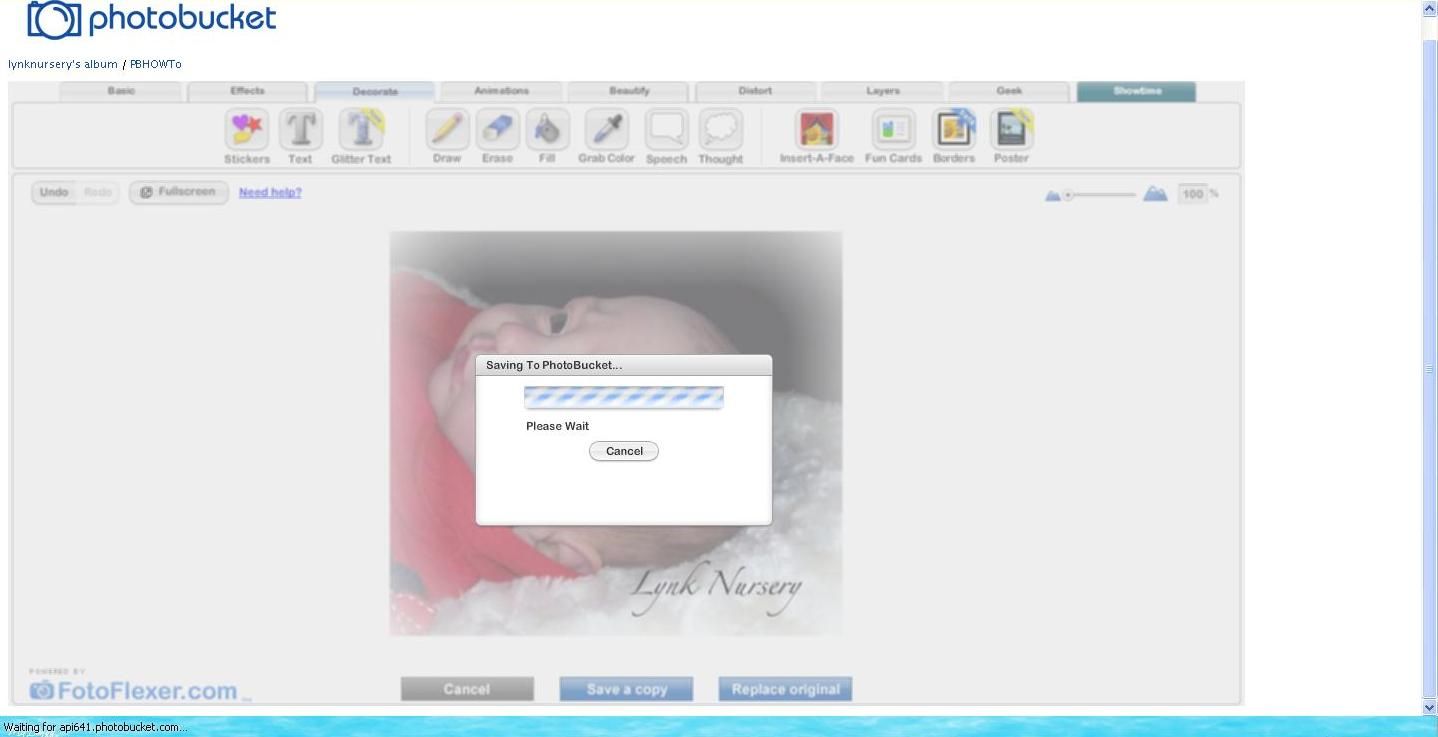 Once saved, it will return you to a different view of your album.
From here you can rename your picture,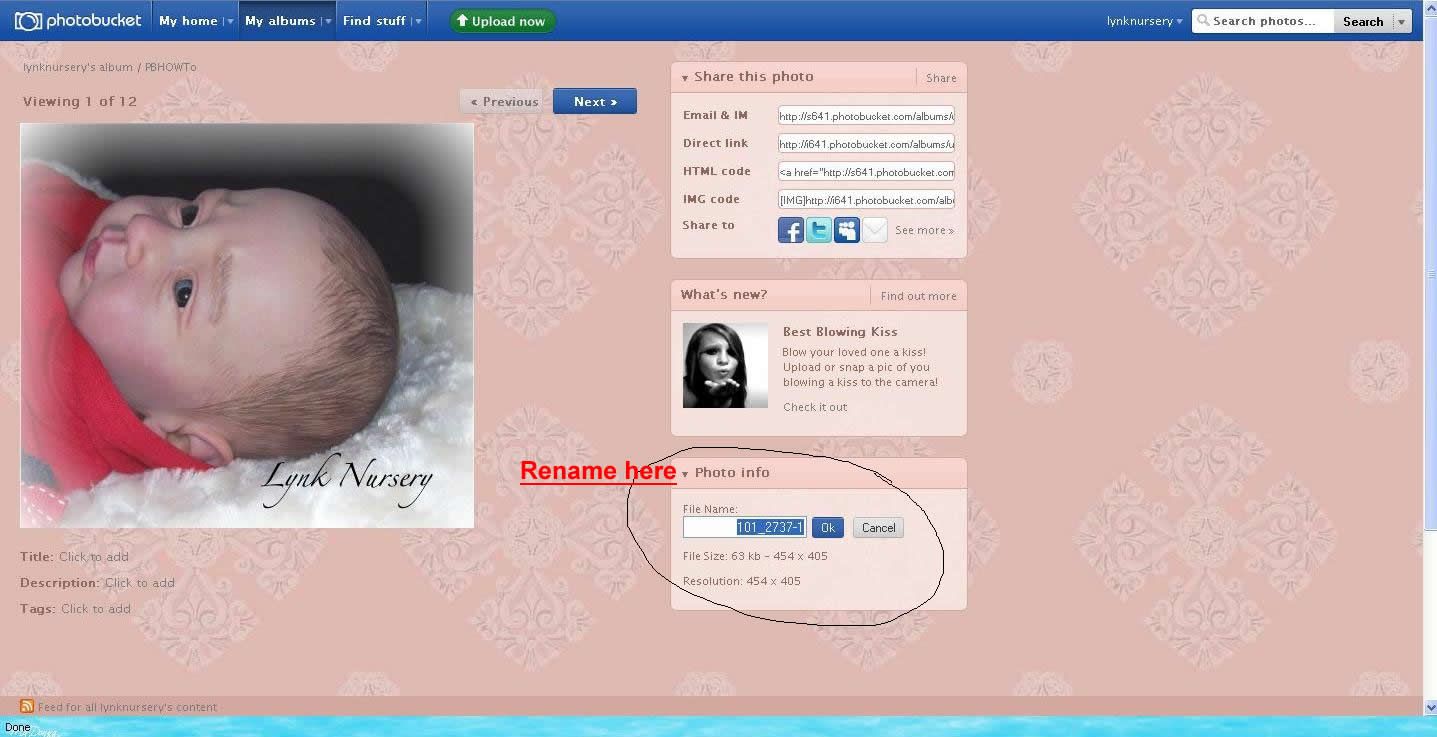 or select other options available to you. Simply place the mouse cursor over the screen to see what other things you can do.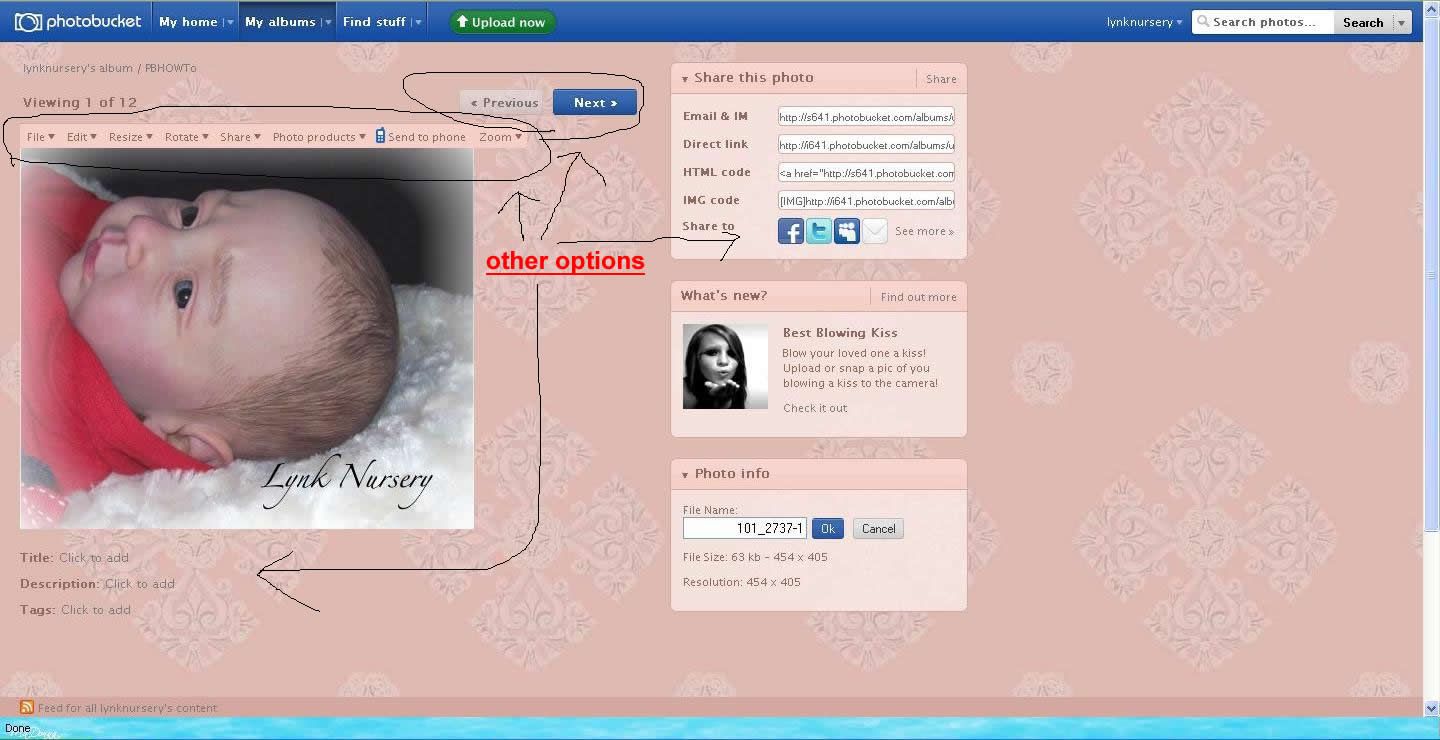 There are many more things that can be done within the editing option in PB but these are the main areas that most people use. Simply take some time to look around and see if there is anything relevant for your use at some stage.
Lyn Keppler
http://lynkproducts.com.au
I make doll bodies too........ see my online store.