I have been working on the
Kaylee
fairy elf
kit by
Ruth Hart
and I have to say it has been a difficult kit to paint and the poor thing does not have a pretty face at all lol.
The vinyl is a little hard so rooting the head was a challenge to say the least and the eyes come already set and glued into the head which of course makes painting it interesting.
I was surprised at the 3/4 limbs as they are actually really pretty and have great detail.
This doll is designed to sit and the body that comes with it although very poor quality does work very well.
The finished doll is 22 inches long with 3/4 limbs
I have to glue the lashes on and of course take photos so I will post them sometime this week.
This is a
limited edition kit
of
150 world wide
and I have not seen any done other that the prototype so if anyone finds any photos please feel free to post them on here so I can have a look
Here are two prototype photos and they
are not
done by me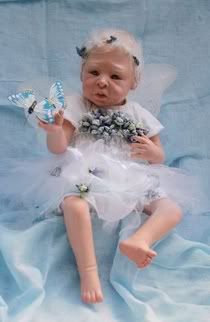 Andama Dujon
www.reborndollsaustralia.com
Save