once a week I generally try to take a look at
ebay
to see what is happening in the reborn doll world and I have to say
I think ebay is now beyond help lol

I think
new buyers
would be very
confused by the dolls for sale
and the
term reborn has kind of gone by way side
now as doll companies are now using the term.
I was also surprised at how many dolls/and many are actually reborns are
well under $200
and having said that most were pretty awful but priced accordingly.
I was also
REALLY surpised
at how
many limited edition kits
are appearing for sale at really inflated prices, so many more than before.
here are todays ads I found rather disappointing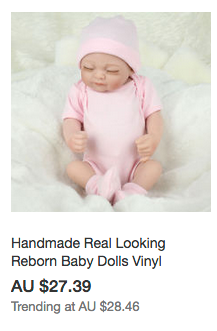 I have also had many women in the store talking about reborns they can now buy from magazines which of course we know are not actually reborns.
Advertising (false and misleading)is really getting in the way of this art form
cheers
Andama Dujon
www.reborndollsaustralia.com
Save