I have spent a great deal of time online looking for an Australian supplier of coloured mohair and whaooooooo I finally found one.
I am so excited as this supplier is happy to dye any colour and I have ordered a very pale blue to use on one of my faeries and shall let you guys know how it is to work with.
I ordered Suri Alpaca which I generally love to work with and this is some of Julies work.
I found that I was only able to buy dyed hair ( unusual colours) from  Italy or Asia and the prices were way over the top then add postage made it way too expensive so this is a bit of a blessing for me.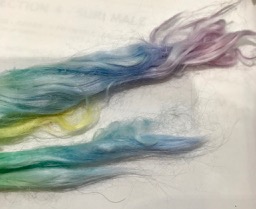 cheers
Andama Dujon
www.reborndollsaustralia.com
Save