Watch video of many versions of the Bethany sculpt

WITH MUSIC.

http://youtu.be/jIbe3vXaCHU
NO MUSIC
http://youtu.be/SAS2Fk5KR1Q
I am working on the
Bethany sculpt
by
Linda Murry
at the moment and I have to say the limbs are a little odd lol. I am not a big fan of pointed feet on dolls and to have one so pointed is a little disappointing. The limbs apart from that are not too bad but they do remind me a lot of the limited edition bernguer bubs that came out years ago with the Shar-pei dog looking folds in the limbs and I mean that in the nicest way. I would never intently buy a baby with these type of limbs and I am sure many mothers looking to adopt possibly wouldn't either.
The head has great features but again is a very odd shape at the back.
I am interested in hearing what other thought of this bubs features and photos of the end result. This kit is lovely to reborn all the same so I am looking forward to seeing how mine tuns out.
Below are photos of how this baby may look and are not done by me.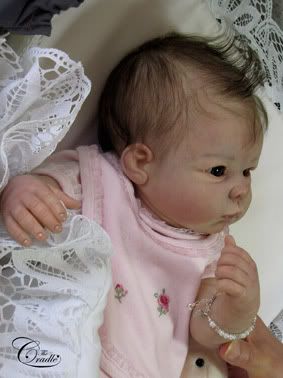 cheers
Andama Dujon
www.reborndollsaustralia.com
Save