Thread Rating:
Artist comp Logo`s ready !
Congratulations Julianne, Andama and Cherie heres your logos !
06-03-2012, 10:11 PM
Thanks Judy they are wonderful


cheers
Andama Dujon
www.reborndollsaustralia.com
Save
06-04-2012, 02:43 AM
They are so beautiful!
06-04-2012, 09:13 AM
Great logos Judy!
Jayne xx
Timeless Re-creations
Reborn Doll Artist
Jayne Louise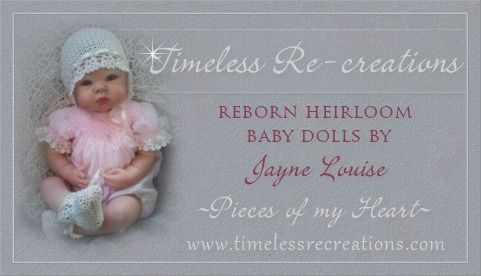 Visit my website
http://timelessrecreations.com/
facebook
https://www.facebook.com/timeless.recreations
Follow me on Pinterest
http://pinterest.com/foronemoment/
06-04-2012, 10:40 AM
Thanks so much, I am very excited to get this! Im off to display it,
xxxx
06-04-2012, 03:14 PM
Awesome! Sorry did you not have my last name? Its Brown
06-04-2012, 07:03 PM
Sorry I didnt have your last name Cherie would you like it changing hun ?
06-04-2012, 07:35 PM
Only if not any trouble, otherwise dont worry thanks
They look great!
Users browsing this thread: 1 Guest(s)