HERE GOES ! PART B
!
THIS IS THE TEMPLATE FOR THE SHADING.
THE AREAS TO BE SHADED ARE IN RED
I USED THREE BRUSHES FOR THE SHADING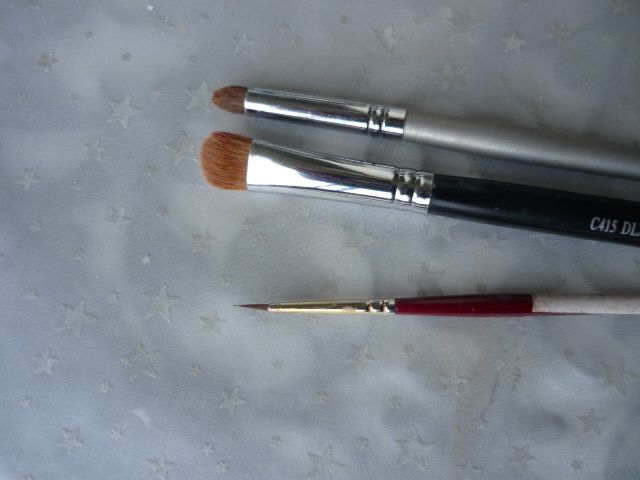 THE FINE BRUSH IS FOR THE CREASES AND WRINKLES
THE ROUND BRUSH IS FOR APPLYING THE PAINT
THE FLAT BRUSH IS FOR DRY BLENDING
PAINTS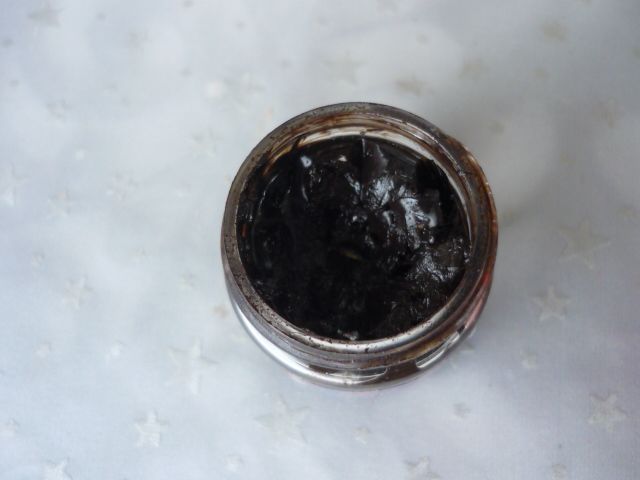 THIS IS BROW BROWN
I USED BROW BROWN BUT A COLOUR ONE TO SHADES DARKER THAN THE FINISHED SKIN COLOUR IS BEST FOR THE SHADING
TO DARKEN A BROWN USE BLUE NOT BLACK
A GOOD REALLY DARK BROWN IS ETHNIC BROW !
I USED PEACHES AND CREAM BLUSH TO ADD THE BLUSHING TO THE LIPS, SOLES OF THE FEET AND THE PALMS AND FINGERS
YOU CAN ALSO USE GENESIS RED MADE TRANSPARENT BY ADDING THINNING GEL.
i HAVE ONLY SHADED HALF THE FACE SO YOU CAN COMPARE ONE SIDE OF THE FACE TO THE OTHER
HOLD YOUR HAND UP TO THE SCREEN TO BLOCK ONE SIDE OF THE FACE AND THEN THE OTHER YOU CAN SEE HOW THE SHADING BRINGS THE BABY ALIVE
V
MORE PICS OF THE FACE
TECHNIQUE
MIX YOUR BROWN WITH EQUAL PART OF GEL THINNER MIX WELL.
WIPE OFF THE EXCESS PAINT ON A PIECE OF PAPER TOWEL
APPLY THE PAINT, USING THE TEMPLATE AS YOUR GUIDE: THEN USING YOUR DRY FLAT BRUSH GENTLY BLEND THE OUTER EDGES INTO THE SKIN COLOUR.
USE THE FINE BRUSH TO PAINT CREASES AND WRINKLES
AROUND EYES,AROUND THE NOSE AND AROUND THE MOUTH, CHIN AND EARS
BLUSH (RED) THE LIPS, INSIDE THE NOSE AND THE RIM OF THE EARS.
THE HANDS AND FEET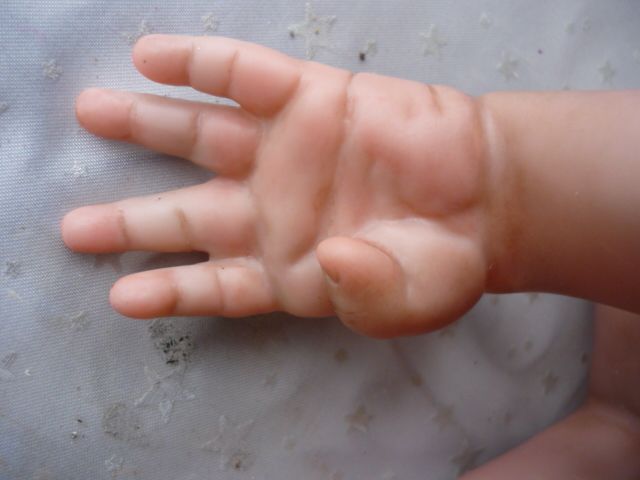 V
BLUSH THE SOLES OF THE FEET AND THE FINGERS AND PALMS WITH THE RED AS i HAVE DONE IN THE PHOTOS ABOVE
DEFINE THE CREASES AND WRINKLES WITH THE BROWN
(NOT TOO DARK)
WOW !!!!!.................THATS ALL FOR NOW
IN THE NEXT TUTORIAL i SHALL TACKLE THE FINER DETAILS AND THE SHADING OF THE LIMBS.
HERE IS A PHOTO OF A BABY TO REFER TO...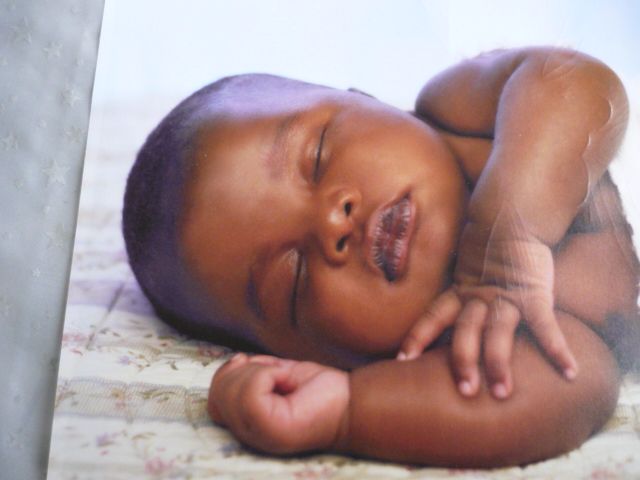 SORRY HAD TO PHOTOGRAPH THE BABY WHEN STILL WET TO CATCH THE FADING LIGHT.
RECORD ANY QUESTIONS HERE !!
Cheers
Sue
Liveffects Nursery-Reborn Baby Dolls
http://staormin4.wix.com/liveffects-nursery-1